Scientific Director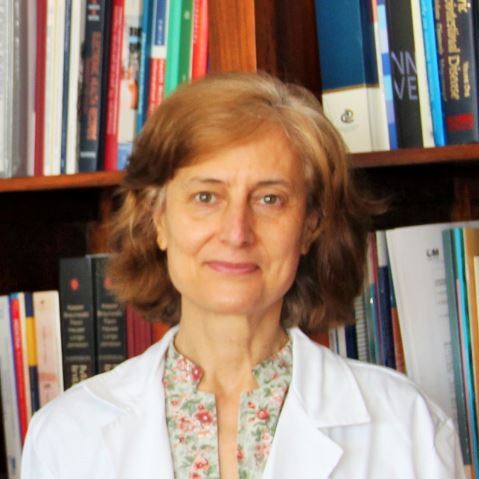 The Scientific Director of the IdISSC is Elena Urcelay García.
After obtaining a pre-doctoral scholarship from the Ministry of Education and Science, Elena Urcelay defended her doctoral thesis on liver metabolism at the Centro de Investigaciones Biológicas, CIB-CSIC, in 1991. Then, she worked as a Fogarty Fellow at the National Institutes of Health (NIH) in Bethesda (MD, USA), where she investigated adeno-associated virus replication as a vector for gene therapy.
In 1996, she returned to the CIB with a reinstatement contract from the Ministry of Education and Science, focusing on the role of ion homeostasis in Alzheimer's disease.
In 2001, she was awarded a "Ramón y Cajal" contract at the Hospital Clínico San Carlos-HCSC in Madrid to study the genetic factors that confer susceptibility to autoimmune diseases such as multiple sclerosis, Crohn's disease, rheumatoid arthritis, and type 1 diabetes.
She is currently a CAM I3 researcher and Scientific Director of the Health Research Institute (Instituto de Investigación Sanitaria) of the HCSC; IdISSC.
Dr. Urcelay has obtained sustained funding from the Instituto de Salud Carlos III since 2004, overlapping with projects from the Fundación Ramón Areces, F. Mutua Madrileña, F. Koplowitz, and others.
It has been a member of the Multiple Sclerosis Spanish Network (REEM) since its inception in 2008. She has supervised 15 doctoral theses and published 190 articles in peer-reviewed journals.
Funciones
To propose to the Governing Council the Institute's Strategic Plan and to monitor and evaluate the scientific programmes once they have been approved.
To prepare and submit to the Governing Council the Institute's annual research report.
To collaborate with the head of the Management Body in the preparation of annual budgets and other mandatory reports.
To make proposals for research infrastructures for the Institute.
To make proposals for training and the promotion of research.
To collaborate with the Management Body in the communication and dissemination of the Institute's research activities.
To collaborate with the Management Body in raising external resources.
To be responsible for ensuring the quality of the research carried out at the Institute, and that it is conducted in accordance with ethical principles of behaviour, both in relation to research activities and to the obligations of research and technical support staff.
To carry out the functions entrusted to it by the Governing Council and the Executive Committee.
Contact:  elena.urcelay@salud.madrid.org