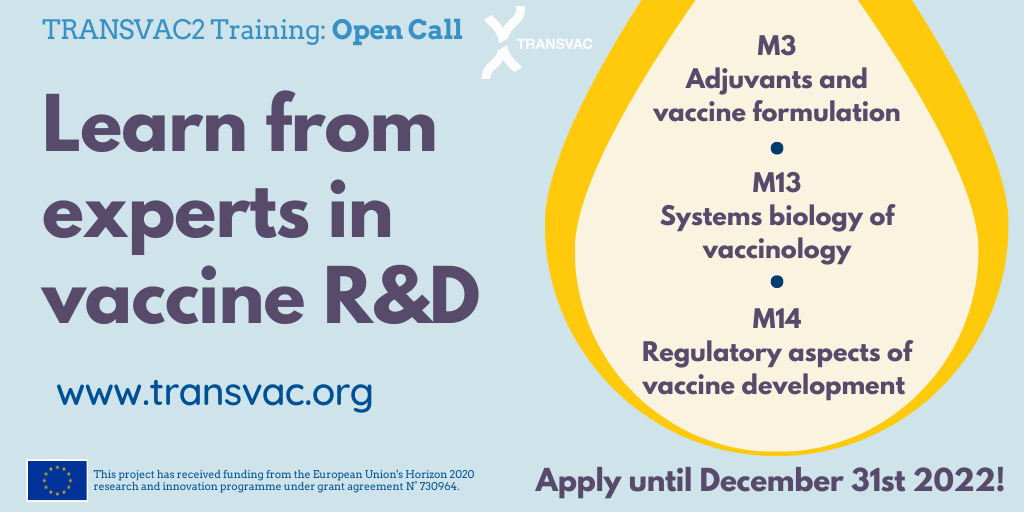 Dear EATRIS COVID-19 Forum and Vaccine Platform Members,
TRANSVAC2, which EATRIS is a partner in,  is now running additional free training courses to provide fundamental and advanced knowledge on a wide range of vaccine development-related topics, including another chance to join the successful EATRIS Vaccine Regulatory training course.
On this call TRANSVAC2 offers free three advanced courses:
M3: Adjuvants and vaccine formulations – offered by Vaccine Formulation Institute (VFI), on March 24-26, 2023 in Geneva, Switzerland.
M13: Systems biology of vaccinology – offered by University of Siena, on February 7-8, 2023, online.
M14: Regulatory aspects of vaccine development, – offered by European Infrastructure for Translational Medicine (EATRIS), on March 28-29, 2023 in Amsterdam, Netherlands
Submit your training application at www.transvac.org/transvac2 by December 31, 2022.
About TRANSVAC2
TRANSVAC2 is a European vaccine research and development (R&D) infrastructure project coordinated by the European Vaccine Initiative (EVI) and dedicated to accelerating the development of safe, effective and affordable vaccines.
TRANSVAC2 has received funding from the European Union's Horizon 2020 research and innovation program under grant agreement N° 730964.